Accessing Capital for Your Small Business
Come join us at this upcoming FREE event!

Scroll Down to Register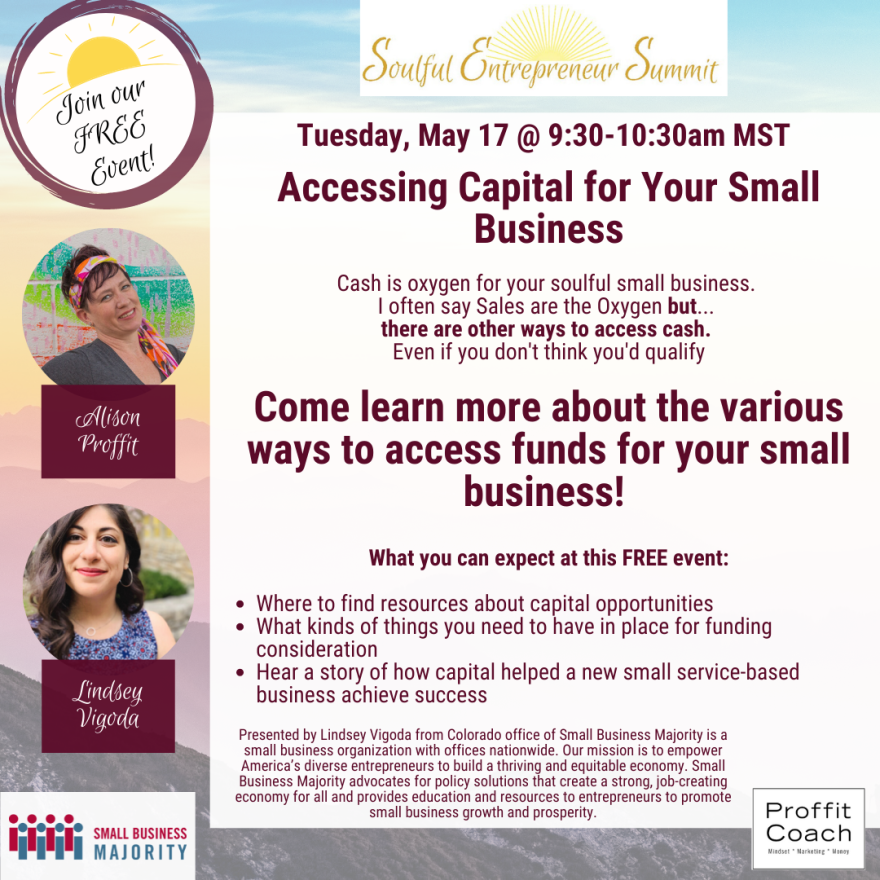 Join this free virtual workshop!

Accessing Capital for Your Small Business
Cash is oxygen for your soulful small business.
Community founder Alison Proffit, often says Sales are the Oxygen but...
there are other ways to access cash.
Even if you don't think you'd qualify
Come learn more about the various ways to access funds for your small business!
What you can expect at this FREE event:
Where to find resources about capital opportunities
What kinds of things you need to have in place for funding consideration
Hear a story of how capital helped a new small service-based business achieve success
Presented by Lindsey Vigoda from Colorado office of Small Business Majority is a small business organization with offices nationwide. Our mission is to empower America's diverse entrepreneurs to build a thriving and equitable economy. Small Business Majority advocates for policy solutions that create a strong, job-creating economy for all and provides education and resources to entrepreneurs to promote small business growth and prosperity.
When: Tuesday, May 17 @ 9:30-10:30 am MST
Where: via Zoom and accessed within the Soulful Entrepreneur Summit Community
Investment: $0 - FREE is JOYFUL to us!

Recording will be available within our FREE community for a week after the event. Details on logging into the community will be provided upon registering.
Just fill out the form below and then follow the instructions that pop up after you fill out the form.