Network Your Way to Soulful Success
Come join us at this upcoming FREE event!

Scroll Down to Register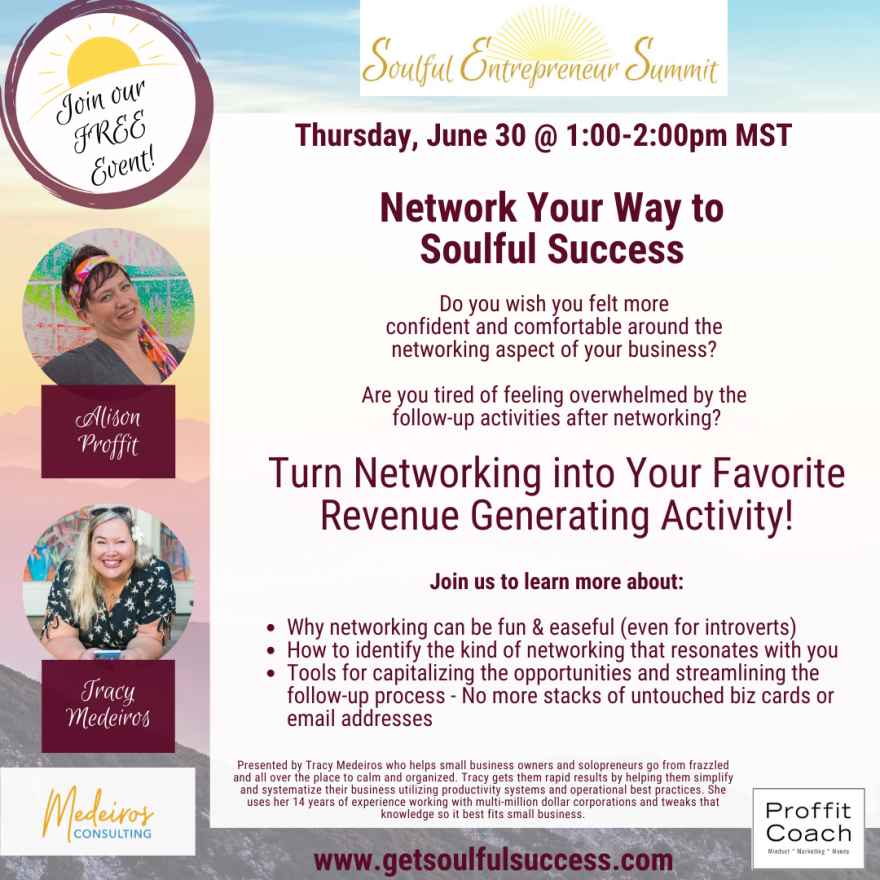 Join this free virtual workshop to help you turn networking into your favorite revenue-generating activity.
Do you wish you felt more confident and comfortable around the
networking aspect of your business?
Are you tired of feeling overwhelmed by the
follow-up activities after networking?
In this workshop you will be guided through how you can:
* Why networking can be fun & easeful (even for introverts)
* How to identify the kind of networking that resonates with you
* Tools for capitalizing the opportunities and streamlining the follow-up process
No more stacks of untouched biz cards or email addresses

Tracy Medeiros helps small business owners and solopreneurs go from frazzled and all over the place to calm and organized.
Tracy gets them rapid results by helping them simplify and systematize their business
utilizing productivity systems and operational best practices. She uses her 14 years of experience working
with multi-million dollar corporations and tweaks that knowledge so it best fits small business.

When: Thursday, June 30 @ 1:00-2:00 pm MST
Where: via Zoom and accessed within the Soulful Entrepreneur Summit Community
Investment: $0 - FREE is JOYFUL to us!

Recording will be available within our FREE community for a limited time after the event. Details on logging into the community will be provided upon registering.
Just fill out the form below and then follow the instructions that pop up after you fill out the form.